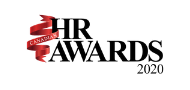 Nationally recognized in 2020 as the Best Labour & Employment Boutique Law Firm in Canada by Canadian HR Awards
This award is provided to only 1 Labour & Employment law firm in Canada and is assessed based on an independent judging panel comprised of industry experts and thought leaders in the Human Resources Profession who conducted a scoring review based on relevant criteria to the award.  The award process is managed by the Canadian HR Awards.
This is a well-known award given to only 10 employment & labour law firms, nationally.
The selection criteria includes legal skill, client base, notable mandates and service excellence. The award process is overseen by Canadian Lawyer Magazine. The magazine states "in consultation with our readers, well-placed sources and other practitioners who participated in our confidential surveys, Canadian Lawyer has identified the top employment law firms in Canada that are widely viewed as the "go-to" experts by their peers." Whitten & Lublin is one of only law firms on the list that represents Plaintiffs and is a repeat award winner. Read the article by Canadian Lawyer.
Canadian HR Reporter's Reader's Choice Awards" in 2016 – 2019 as the Best Employment & Labour Firm in Canada
The Canadian HR Reporter Readers' Choice Awards highlight HR vendors and suppliers who are the best at what they do, as selected by HR professionals. In 2018, there were more than 65,000 votes cast to determine the award winners and Whitten & Lublin was delighted to be named as one of the Best Employment & Labour Firms in Canada. Whitten & Lublin is pleased to hold this distinction in every year since 2016.
Lawyers are Recognized as "Leading Practitioners" by Lexpert, the most trusted authority for the top quality lawyers in Canada.
Recognition in the Canadian Lexpert® Directory is an acknowledgement of excellence by a practitioner's own peers and colleagues. In 2020, Lexpert contacted 508 employment lawyers across Canada and asked them to complete a detailed questionnaire identifying who in their opinion were the leading practitioners in their province. In Ontario, the response rate was 74.1%.
To receive this award, a lawyer must be nominated by a Lexpert-ranked lawyer in their same practice area. Nominations are reviewed by the Editor-in-Chief. Determination for ranking within the Canadian Lexpert Directory is then based on the results of extensive voting by other lawyers, conducted in an annual survey.
Founding Partners, David Whitten and Daniel Lublin are pleased to have received this prestigious distinction in each of the past 5 years.